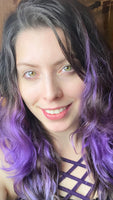 Just a little Thank You
This may be a business, however, it is so much more than that to me. I turned a passion for fantasy and art into a child hood dream come true. With your support I am able to stay home with my two little boys, Griffon and Phoenix. I have been given the amazing oppurtunity to watch them grow because of you! I can never truly express into words my gratitude. Thank you.
Meet the Artist Behind the Magic!